UVA Magazine - current site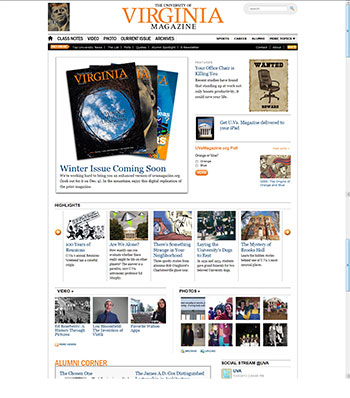 UVA Magazine - before
The aim of The University of Virginia Magazine, which has been published continuously by an independent alumni association since 1901, is to strengthen the connection of alumni and friends to the University and with one another. With a circulation that tops 200,000, the magazine is sent to all alumni, faculty, students, parents and friends of the University.
This was a development project. The Magazine underwent a redesign which was done in-house. They wanted to streamline their back-end processes, clean up the code, and update their content management software, which is Expression Engine. They contacted us because we are Expression Engine experts and we were glad to help.
The challenge wasn't how to implement the new design. The challenge was how to keep SEVEN years of archives completely intact despite updating the templates that output all the data for the articles, images, and comments and do it all while the current site was being constantly updated.
Here's what they said:
"Thank you so much for stepping up and working for the Alumni Association over these past few months. Your work has been high quality and much appreciated!"
—Brittany Averette