JMRL - current site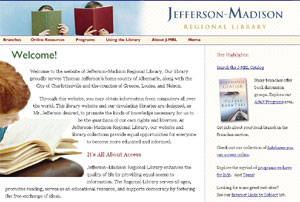 JMRL - 2004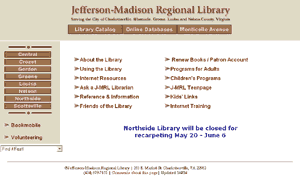 JMRL - original site
The Jefferson-Madison Regional Library consists of ten branches, including a bookmobile, and serves a combined population of 185,000 in the City of Charlottesville, the Town of Scottsville, and the Counties of Albemarle, Greene, Louisa, and Nelson. This is the largest geographic area covered by any Virginia library.
The Library selected drw Design after a rigorous RFP process in 2004. This was a originally a makeover project. The main problem with the current site (aside from its circa 1998 look) was its navigational structure and architecture.
We created a new look that was clean, professional, inviting and friendly. We completely overhauled the navigation and architecture along with a massive code clean-up. We created a set of style sheets and scripts that keep the design utterly consistent at different screen resolutions and in different web browsers.
In 2010, JMRL was part of the Charlottesville Design Marathon and got a new design for their logo and library card.
They asked if we could incorporate the new logo and colors into the existing site. We were happy to oblige.
Here's what they wrote:
Since 2004 drw Design has remade the JMRL website three times to keep it up to date. Each change has brought more positive feedback from Library patrons.
The remake is never just cosmetic. Debra knows all about the newer codes and stylesheets that will make the website work better and she does a behind-the-scenes makeover as well. As JMRL developed more programs, the website needed an easy way to add events to a calendar. Therefore in 2006, Debra added a calendar script that is very easy to use and she keeps adjusting it as the Library's needs change.
Over the years the navigation bar has had to change and Debra always comes up with creative solutions that work and look better. The most recent remake was difficult since the colors we needed to match didn't look that good on the website. Debra was able to come up with a terrific solution that looks fresh and modern. Here is how I would describe working with Debra: creative, professional, easy and fun to work with, always available to fix problems.
Jacqueline Lichtman
Jefferson-Madison Regional Library
Here is what our client said about the original project:

The Jefferson-Madison Regional Library wanted to have a website make-over but was not certain about what the new website should look like. We wanted something easy to use but sophisticated, something clear but had access to all information, something inviting that would look professional but not intimidating to the novice Internet user. It needed to load quickly, invite people in, and have a modern appeal.
It sounded impossible to bring our vision to reality but drw Design did it all! The end result was more than we could possibly have imagined. As soon as the website went up, we have received only positive comments. The staff and public love the new website. There were no problems at all with the transition from one site to another; everyone is finding what they need.

Debra was a joy to work with. She had lots of good ideas but was flexible about changing her ideas to meet my concerns. I highly recommend drw Design to make a website an exciting representation of any organization.

Jacqueline Lichtman
Jefferson-Madison Regional Library