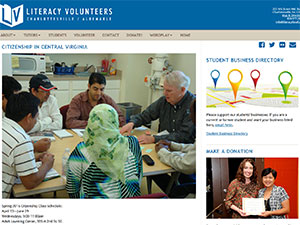 LVCA current site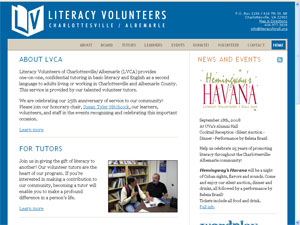 LVCA - 2008-2016

LVCA - first redesign circa 2001
Literacy Volunteers of Charlottesville/Albemarle (LVCA) provides one-on-one, confidential tutoring in basic literacy and English as a second language to adults living or working in Charlottesville and Albemarle County.
We're real passionate about literacy, and we've been volunteering in this program for several years.
We originally took the crappy site they had and made them a better one back in 2001. It was really nice at the time, and served them well.
In 2008, they decided to go for a whole-hog redesign and technology upgrade.
We incorporated their existing print materials and designed them a lively and dynamic new site that got a super-clean look, intuitive navigation, and ran out of a content management system so they could update it easily in-house.
Eight years later in 2016, we did it again. We all still liked the design, so while the site has the same basic look, it's bigger, bolder, fully responsive and subtly more contemporary. We've changed the fonts, overhauled the navigation, updated a lot of the content along with the back-end software. We also set them up with a new free hosting plan for non-profits and incorporated Google Apps for Non-Profits.