Capital Photography Center - current site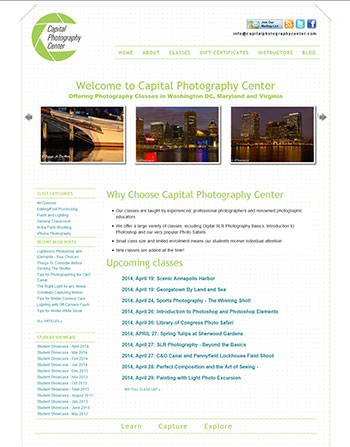 Capital Photography Center - 2012
Capital Photography Center offers classes taught by experienced, professional photographers and renowned photographic educators selected not only for their in-depth knowledge in photography, but for their skill in conveying that knowledge in Washington DC, Maryland and Northern Virginia.
This was originally an implementation project in 2012. The client liked her design, but hated the existing class registration process, and was becoming increasingly unhappy with Wordpress. We put the site into ExpressionEngine. We re-did the blog. We created a more flexible class registration system, gift certificates and better reporting tools.
We did a re-design and technical upgrade in 2017. Our client still liked the design, so we updated it for a more contemporary feel with bigger, bolder imagery. We added new registration tools, real-time inventory display and other features that make managing the business more efficient for our client.